Budgeting for a new apartment can be tricky, especially with security deposits, first month's rent, and, often unexpectedly, move-in fees. The best way to budget for the apartment of your dreams is to know what to expect when it comes to pricing and fees.
Rental Security Deposits Vs. Apartment Move-in Fees:
Learn the difference between security deposits and move-in fees for your next apartment. Then, use these insights to prepare yourself for an easy, stress-free apartment search!
Move-in fees are:
Some apartments charge a non-refundable fee upon move-in to cover any maintenance done to get your unit up to par. The apartment manager or landlord should notify you if there is such a fee, but don't be afraid to ask!
Things to know:
Apartments will often have a crew perform touch-ups to paint scratches and bumps, as well as other minor fixes to appliances, walls, floors, etc.
Apartment move-in fees are typically somewhere between a third to half the cost of one month's rent
They are non-refundable and generally not regulated by any associations or state governments
To calculate an estimated move-in fee for an apartment, simply multiply one month's rent by 33-50%
Rental Security Deposits are:
A security deposit is an established amount that is charged upon moving in and is subject to your leasing agreement requirements. Upon moving out, you will receive your rental security deposit refund if your unit was not damaged beyond normal wear and tear, all leasing requirements have been met, and you do not owe back any rent.
Things to know:
The security deposit is kept by the landlord until the tenant moves out
They are refundable and regulated by individual state laws
Typically equivalent to the cost of 1-2 month's rent
During your residency, the landlord/management company is required to provide a bank statement showing where the money is being held
Upon move-out, landlords are required to reimburse full security deposits to tenants unless leasing requirements were not met
If the unit was damaged, the security deposit refund will be paid back in an amount that accounts for the cost of repairs. It may not be paid back at all depending on the cost of maintenance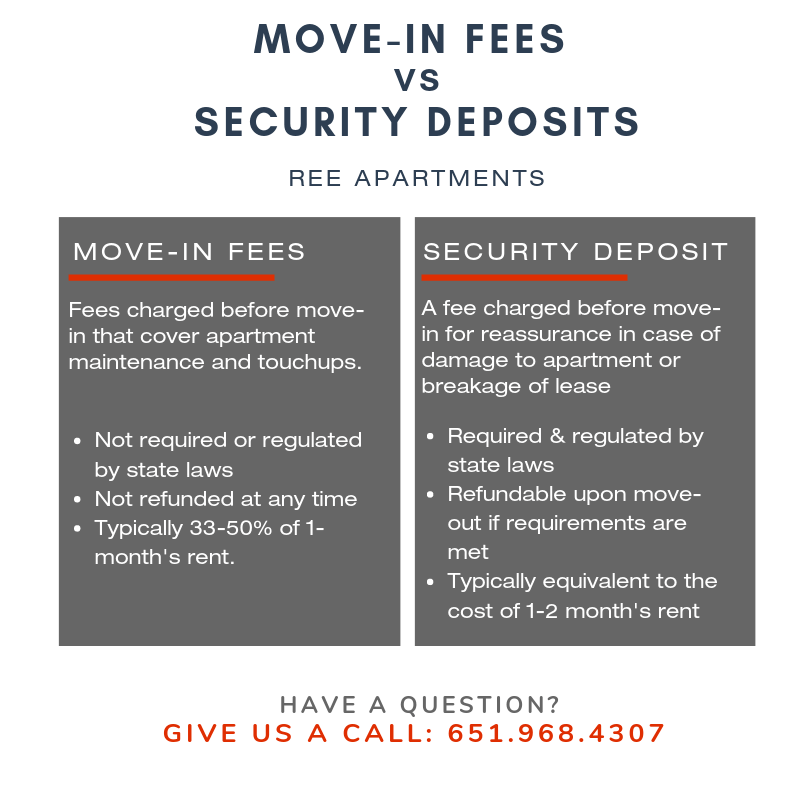 Other Unanticipated Costs & Fees
The rental world is becoming easier to navigate in the digital age, but rental scams are still prevalent, so make sure you're aware of legitimate fees. Here are a few common fees you can anticipate when meeting with landlords and leasing agents:
Rental applications ($30-100)
Holding fees
First & last month's rent
One-time pet and utility fees
Monthly storage, parking, pet and utility fees
Are you a first-time renter?
Make the rental process easy — use our resources for first-time renters to get peace of mind. Or, give us a call today if you have more questions or need help determining the right rental situation for your needs and budget.
We'll walk you through the basics and will even show you a few rental options to get you started on the most exciting part of apartment shopping — the actual apartment search!