Can you live in Minneapolis, St. Paul and/or around the Twin Cities without a car? Yes!
Whether you just moved here or have lived here your whole life, you can easily navigate the Twin Cities without those four wheels (and monthly payments — yes please!). If that's music to your ears and wallet read up to our top suggestions for planning your commute to work, school, and popular hot spots around both Minneapolis and St. Paul!
Just imagine enjoying a walk to work every day with no stress over parking fees or car maintenance issues from post-winter potholes. Minneapolis and St.Paul were built for residents who want to get around without a car with countless transportation options and walkable restaurants, events and bars. Just recently Minneapolis was even named one of the most walkable cities!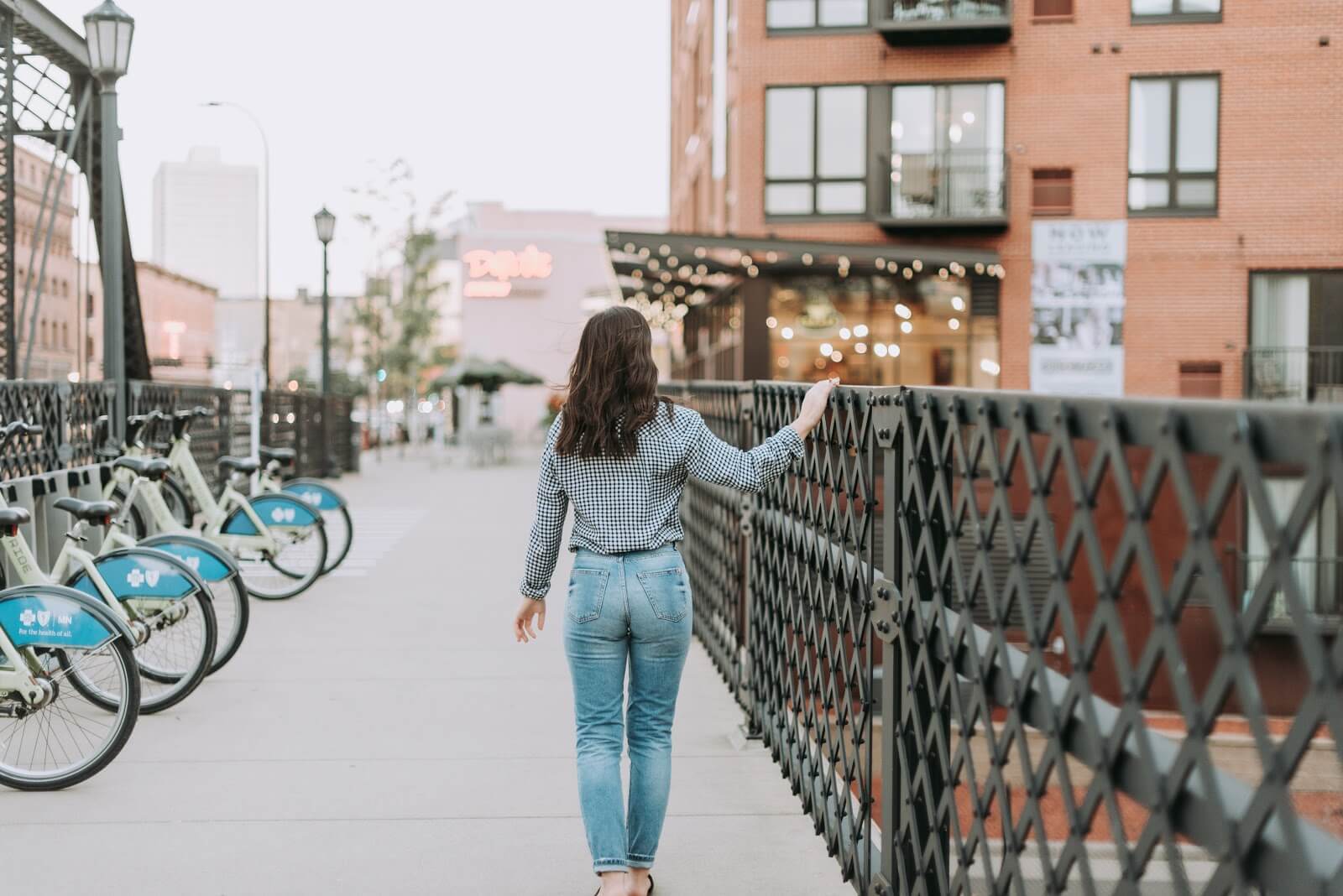 To get started, all it takes is evaluating your transportation options and must-haves. Then you can start to look for a home with easy access to your preferred method of transportation. Follow our guide to set yourself up for success and learn how to get around easily without a car.
A Guide to Living and Getting Around the Twin Cities Without a Car
Define your options:
If you're going to learn how to get around without a car, your first consideration may have to be … how will I get around instead? As you weigh your options, follow these 3 steps to make sure they'll be a viable choice for your commute:
1. Consider what commuter options have drop-offs closest to your "hot spots" or the places you know you'll frequent like work, school, the gym and family or friends' houses.
2. Get to know your options, maybe even try a few out, and imagine yourself using those transportation methods every day.
3. Finally, set your limits and create a list of transportation uses you plan to rely on, as well as a few backups.
Here are the main ways to get around without a car in Minneapolis and St.Paul:
• The Northstar Light Rail: The Northstar is a relatively new light rail network that connects Metro Light Rail lines to the northern suburbs of the Twin Cities, from Fridley all the way up to Big Lake in St. Cloud.
• The Minneapolis Metro Light Rail: An easy and relatively cheap way to travel in and around Minneapolis and St. Paul and some of their neighboring communities. With 43 stops including the Mall of America and terminals 1 and 2 of the MSP Airport, you'll be set to get around, shop and travel without a car or even Uber!
• Bus fares range according to the time of day and location, topping off at around $3.50, with some "free ride" options in and around downtown Minneapolis streets. You can get started on your car-free life by planning your commutes on their website and soon, you'll get the hang of how this safe and easy transportation method works.
• View all Metro transit pricing, plans and passes to weigh your options and see how much you could be saving using this method instead of that monthly car payment (and gas money!)
• Ride/Car-Sharing in Minneapolis & St.Paul:
• App-based platforms like Lyft and Uber are always an option when you're going somewhere out of the bussing range or just need to get somewhere at the drop of a hat.
•When you're planning a full day of travel, or want to run errands while you're visiting friends, your ride fees could start to pile up. For times like these, consider Hourcar, a local ride-sharing service that lets you pick up the car from a location, drive it, run your errands, and drop it off in the same or a different location.
• Biking Trails:
• Personal bike: The Twin Cities is a great place for people who love to bike. The cities are biker friendly all year round and have abundant trails that make getting from Minneapolis to St. Paul and everywhere in between simple. And yes, the winters may be tough, but your fat bike is tougher and there are designated plows that maintain most of the trails year round.
• Rental bikes: Across the Twin Cities and just outside their borders (Uptown, Northloop, Midtown, etc) there are various bike and electric scooter rentals you can use when you're in a pinch. Just note, they are seasonal, so you won't be able to rely on them during the long winter months.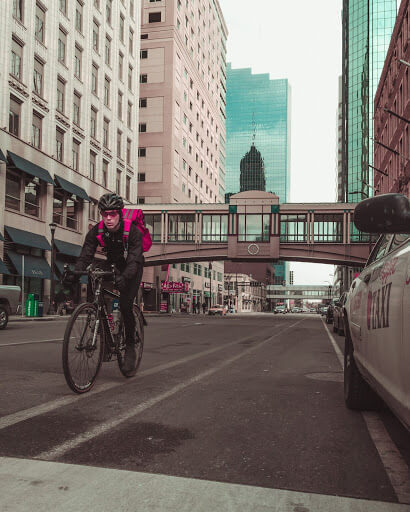 Acquire the Twin Cities' transportation must-haves:
Okay, so you're going to save money by not investing in a car. But what essential transportation must-haves will you need in your back pocket to travel hassle-free, and stay on time for your important events? View our checklist below to make sure you've got all your bases covered so you can live stress-free in the cities without a car!
If you're not going to have a car make sure to invest in:
• Twin Cities & Metro-line maps — available info on important trails, bus lines, skyways, and more
• Bus pass — choose a plan that fits your needs
• Bike — for short commutes or emergencies
• High-quality backpack or laptop bag — to take everything you need with you. Make sure it's durable and waterproof, too!
• Ride-sharing apps — for emergencies and convenience on a rainy (or snowy) day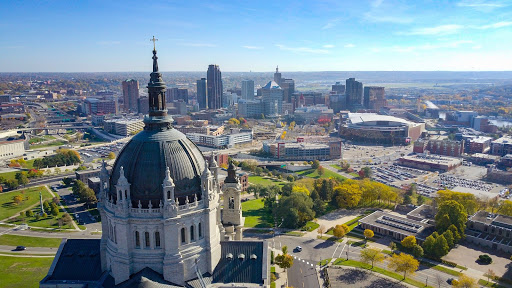 Find the easiest place for you to live without a car:
Determining the easiest place for you to live in the Twin Cities if you're going to roam around car-free is more or less dependent on your lifestyle.
1. You'll need to factor in your daily commutes like work or school.
2. Consider what else you'll want easy access to, like a thriving restaurant scene, local gym, exciting events, friends and family, etc.
If you've got a general idea but need more direction, start with downtown Minneapolis or St. Paul. Both city centers have endless hot spots in walking distance to keep you entertained in the summer and winter, and they house the major metro light rail and bussing hubs.
But if city living isn't your style or is out of your budget, try one of the many neighborhood communities, like Uptown, Lowertown, Northeast, or the North Loop. These neighborhoods offer the same level of access to transportation as well as thriving restaurant and bar scenes, free outdoor events, and quality apartments with a more budget-friendly rent.
Take a look at all your options in and around Minneapolis and St. Paul and know they don't have to be right in the heart of either city to reap the full benefits of car-free living!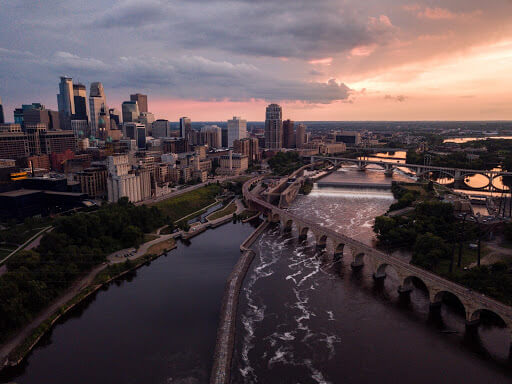 Get really good at planning ahead:
Owning a car may not be a requirement, but planning your transportation to timely events is. It will be important for you to plan ahead for your upcoming week's schedule. Planning ahead and pre-packing your essentials will save you from missing the bus or running late to a meeting.
Consider this list of items and events you'll need to plan ahead for if you're going to live in Minneapolis or St. Paul without a car:
• Pre-packing your work, gym or school bag
• Download the Metro Transit app to keep bus schedules on your phone
• Backup transportation plan for missed metro lines, snow storms, last-minute happy hours, etc
• Well thought-out grocery shopping plans for when to shop, where to shop, and how to carry all of your groceries home
• Accessible maps for taking different routes or running miscellaneous errands
Finding the Best Twin Cities Apartment for Car-free Living
Looking for the best Twin Cities location to live while you get around without a car? You're in the right place — we've helped plenty of individuals, couples and families find the best place to live without a car. Contact our local staff to go over your unique needs, ideal locations and more so we can fit you with the most successful match for your lifestyle!