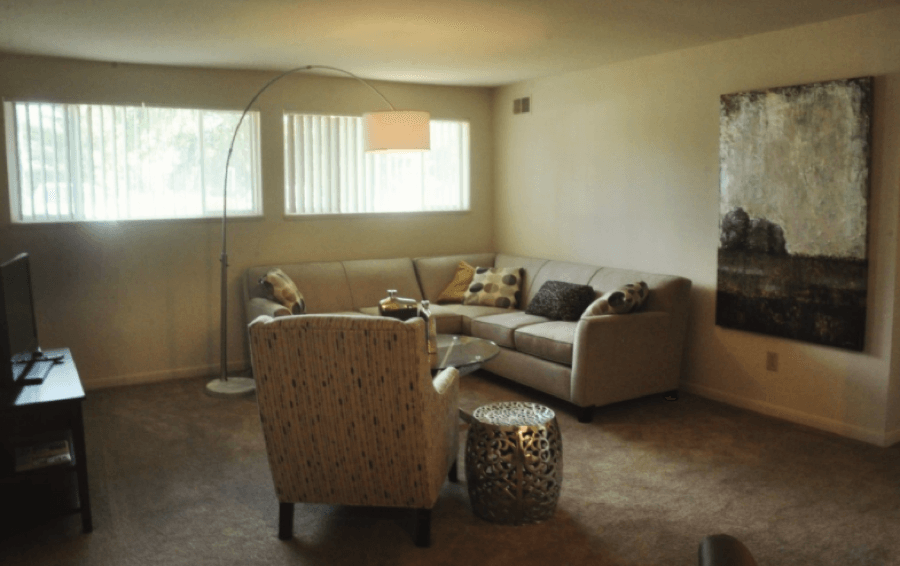 When choosing an apartment, location is sometimes a higher priority than square footage. It makes sense, because you can always use space saving tips to make the most of your living environment, but you can't move your apartment to a new part of town. The problem is, most people want to pack as many things as they can into a living room. It's the part of the apartment that serves multiple purposes: watching TV, listening to music, entertaining guests, napping and reading all happen in what is essentially the Swiss army knife of rooms. If you want to get more use out of your living room without tripping over mountains of furniture, it's time to get strategic.
Use Modular Furniture
It's easy to make a room look and feel just the way you want when you have furniture that breaks apart and comes back together in a variety of arrangements. Modular furniture allows people to mix and match pieces based on available space or changing activities. When friends visit, it's useful to spread out pieces of a couch to form a circular arrangement so everyone can see each other. On the other hand, a romantic date night works better with the couch in a loveseat formation. Your furniture configuration can be whatever you want it to be, so get creative!
Make Use of Glass, Mirrors & Acrylic
Using certain materials in a room can make it feel larger than it actually is. In the case of a small living room, glass and acrylic furniture are your friends. These transparent materials seem to disappear right into a room and take up a small amount of space. One way to create this optical illusion is to add a glass coffee table — even if it's in the center of the room, it won't feel like it is dominating the space. As an added benefit, glass pieces tend to reflect light, which produces another space enhancing illusion. Mirrors produce the same effect, so have at least one on your wall to expand a room. If you're going for a chic, spacious and modern look, go with these materials.
Install Wall-Mounted Storage
Wall-mounted storage, sometimes referred to as hanging storage, frees up space in living rooms. When you use less space on storage, you get more room for the things you use every day, like pieces of furniture. Look for minimalist bookshelves, which use simple platforms connected to the wall, and make pieces of literature appear to float in thin air. Bulky entertainment centers are almost always a no-go for small living rooms, but when you buy a sleek, wall-mounted type, it poses less of a problem. Here you can store your TV, speakers, movies and anything else to maximize entertainment with limited square footage. You can even find bike racks that connect right to the wall, creating an unconventional piece of art in the room.
There are endless ways to make the most of a given space, and that is especially true in the living room. The trick is getting creative with your layout to bring it together in a way you might not have initially considered. A small living room can be just as comfortable, stylish and welcoming as a large one; it just takes a bit of planning. Once your living room is complete, you will need a plan for entertaining guests. Check out our post "Living Alone in a Lively Apartment — Having Guests Over" to learn how to organize the perfect get-together.