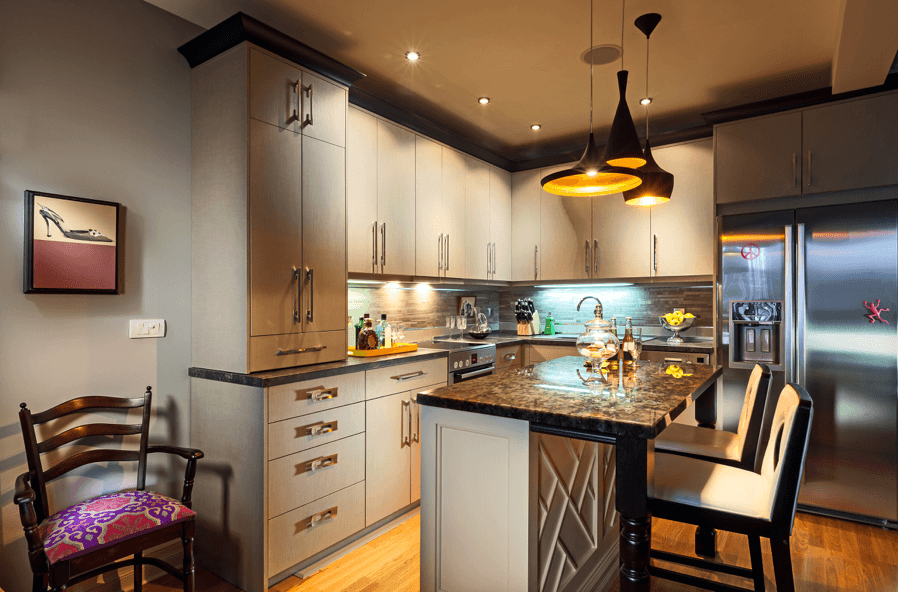 A small kitchen doesn't have to have a small amount of amenities. In fact, even if you live in a studio, your kitchen can pack a surprising amount of punch with the right space-saving tricks. There is nothing quite as convenient as having your utensils, dishware, cutlery, and food items all within arms reach. Efficient storage saves you time while preparing food – it's truly the ideal setup for people who lead busy lives, but still want to cook up a storm every once in a while. So how do you get the most out of limited square footage? Here's how to get the maximum utility out of every square inch:
Wall Storage
It's worth thinking outside the box (or in this case, outside the horizontal surfaces) when kitchen space is limited. When your cabinets and countertops are full, it's time to look to the walls for places to hang your items. Hooks, racks, and shelves are the unsung heroes of the kitchen, because they turn unused walls into a home for pots, pans, ladles, and much more. These are the kinds of tools that need to be easily accessible if you want to fix a meal quickly, and hanging storage makes it possible.
Movable Cutting Boards
Don't have a dedicated cutting board space in your apartment? Don't worry – there are plenty of alternative options for the space-conscious kitchen dweller. Look for cutting boards that can be placed on a stove or tabletop, and stowed away when you're done chopping or dicing. Yes, it's another thing you need to place in a cabinet or drawer, but these items are typically compact enough not to cause too much of an issue. They are well worth the money, as you should not risk damaging your countertop surfaces for tomato slices.
Mountable Stemware Rack
You don't have to be a connoisseur to know that sipping wine from a regular glass just doesn't feel right. Unfortunately, wine glasses take up precious space in kitchen cabinets, which means you need to snake your arm through them to get to anything else. It's all to easy to knock them over in this storage area, so consider a stemware rack that mounts to the bottom of the cabinet instead. Here you can hang your vino vessels and show them off in all their glory. When it's time for a wine night, you'll be glad they're within reach.
Rolling Storage
A rolling cart gives you extra countertop space as well as additional shelves on its lower levels. Cart storage is a great kitchen addition, because you can move it anywhere you happen to be working. If you're baking a cake, for example, you can keep all your ingredients on the top surface for easy access. Rolling carts are also a good option for long-term storage. If you have cutlery you only use for special occasions like holiday dinners, you can stow it away on the cart and roll it out when it's time for fine dining at home.
Fitting into a new apartment is about more than its location, décor, or ambiance; it's about the amount of physical space you have and what you do with it. In the kitchen, that means looking for unique storage ideas that can turn a small room into the perfect place for meal preparation. When you know exactly where to store items in your kitchen, you don't have to resort to alternate storage options like closets in other rooms. There are endless ways to improve your kitchen storage, so get creative with your space. It will make entertaining guests a whole lot easier, so check out our post "Living Alone in a Lively Apartment – Having Guests Over" to further improve your hosting skills.